Natural essential oils are a prized gift from nature. These precious oils, extracted from a variety of flowering and non flowering plants, are used in a variety of ways.
Essential Oils
Such oils find their way into perfume, add delicate flavor to food, and may even be used as a complementary form of medicine referred to as "aromatherapy."
Aromatherapy, using natural essential oils, need not be reserved for medicinal purposes. Aromatherapy has many valuable uses. It can lift the spirit when down, calm and relax when stressed, or energize when sluggish.
How does such a tiny amount of liquid accomplish such magic? Aromatic essential oils send chemical messages to the brain… specifically to the parts that control emotion and mood. The unique properties of fragrant plants such as chamomile, geranium, cedar wood, and lavender, are taken advantage of to improve negative moods and enhance health. Oils are first extracted from the plants and next processed for end use. Only minute quantities are required for aromatherapy benefit.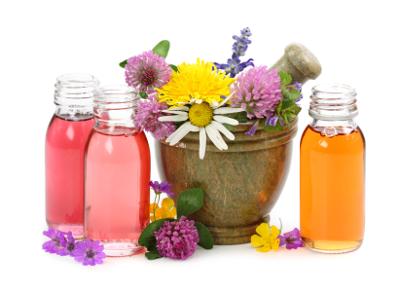 The therapeutic scent can travel to the brain in one of two ways: inhaled or via topical application to the skin. The oil may be sniffed by dabbing on a cloth or handkerchief. A device made expressly for this purpose, called an "essential oil diffuser," is another method.
To apply to the skin, it is first diluted with an oil such as almond or apricot, referred to as a "carrier oil." The mixture is then massaged onto the skin. Other methods of dilution include combining with body lotion or adding to bathwater.
Note: plant oils are potent. They are much too concentrated to apply directly to skin. To avoid irritation or worse, always mix them with either a carrier oil, water, or unscented body lotion.
There is an array of enticing products that offer the healthy benefits of these mood enhancing oils. From hand lotion to foot cream, shampoo to natural perfume, there are numerous ways you can easily take advantage of the pleasant effects of aromatherapy. Or purchase pure, natural essential oils to use in a diffuser or concoct your own unique skin care products.
Lavender Essential Oils
Are you looking for Lavender Essential Oils? High quality essential oil from the beloved aromatic herb? Lavender essential oil is extracted from the tiny purple flowers of the aromatic lavender plant.
Lavender Essential Oils – History
Classified as an herb, it is a native of the Mediterranean region. Lavender is grown all over the world… with the largest supply of the essential oils coming from France.
Revered for centuries, it was used by the Egyptians to mummify bodies. Ancient Persians, Greeks, and Romans considered it an indispensable a part of their bathing rituals in. In fact, the herb's name is derived from the Latin "lavare," meaning "to wash."
Throughout history, lavender was considered an antiseptic and a support for mental health conditions. In the 21st century it helps treat conditions such as anxiety, restlessness, insomnia, and depression. It may also aid headaches, upset stomach, and hair loss.
Indeed, many regard lavender oil as the most versatile of the aromatherapy essential oils. According to "The Essential Oils Book," by Colleen Dodt, lavender has been found to be:
* Antifungal
* Antiseptic
* Antidepressant
* Anti-inflammatory
* Calming
* Deodorizing
* Harmonizing
* Normalizing
* Rejuvenating
It is also believed to enhance the immune system.
Lavender is an all time favorite fragrance of many. Lavender essential oil is found in numerous personal care products such as: bath salts, lotions, shampoos, shower gels, soaps,and perfumes.
This herb is a personal favorite of mine. In fact, I grow a few lavender plants right outside my kitchen door. I find it irresistible to pinch the leaves, enjoying the enticing aroma as I walk by.
A bottle of lavender essential oil is a permanent fixture on my bed side table. Before retiring each night, I sprinkle a few drops on a tissue and slip this inside my pillowcase… sweet dreams! On hectic days, I apply several drops of lavender oil to a handkerchief (or clean piece of cloth or tissue would do) and tuck this into my purse. I pull it out and take a whiff for a bit of aromatherapy stress relief.